{"id":7133920035010,"title":"PORTABLE WIRELESS HANDHELD MINI VACUUM CLEANER FOR CAR AND HOME","handle":"wireless-car-vacuum-cleaner","description":"\u003ch3 style=\"text-align: center;\" data-mce-fragment=\"1\" data-mce-style=\"text-align: center;\"\u003e\u003cstrong data-mce-fragment=\"1\"\u003e\u003cspan data-mce-fragment=\"1\"\u003eMAINTAIN YOUR CAR EXTRA CLEAN WITH THE BEST PORTABLE VACUUM CLEANER\u003c\/span\u003e\u003c\/strong\u003e\u003c\/h3\u003e\n\u003ch4 style=\"text-align: center;\" data-mce-fragment=\"1\" data-mce-style=\"text-align: center;\"\u003e\u003cstrong data-mce-fragment=\"1\"\u003e\u003cspan data-mce-fragment=\"1\"\u003eNO MORE CRUMBS, DUST, OR DIRT!\u003c\/span\u003e\u003c\/strong\u003e\u003c\/h4\u003e\n\u003ch4 style=\"text-align: center;\" data-mce-fragment=\"1\" data-mce-style=\"text-align: center;\"\u003e\u003cstrong data-mce-fragment=\"1\"\u003eCONVENIENTLY HELPING YOU TO TIDY UP EVERY SINGLE CORNER OF YOUR VEHICLE AND HOUSE\u003c\/strong\u003e\u003c\/h4\u003e\n\u003cp data-mce-fragment=\"1\"\u003e\u003cimg src=\"https:\/\/i.makeagif.com\/media\/4-06-2019\/uqjtwQ.gif\" alt=\"Introducing the Shark Cordless Handheld Vacuum Cleaner [Single Battery] WV200UK on Make a GIF\" width=\"554\" height=\"311\" data-mce-fragment=\"1\" data-mce-src=\"https:\/\/i.makeagif.com\/media\/4-06-2019\/uqjtwQ.gif\"\u003e\u003c\/p\u003e\n\u003ch3 style=\"text-align: center;\" data-mce-fragment=\"1\" data-mce-style=\"text-align: center;\"\u003e\u003cspan data-mce-fragment=\"1\"\u003e\u003cstrong data-mce-fragment=\"1\"\u003eFULLY CLEAN YOUR CAR\u003c\/strong\u003e\u003c\/span\u003e\u003c\/h3\u003e\n\u003cp data-mce-fragment=\"1\"\u003eSometimes it can be\u003cspan data-mce-fragment=\"1\"\u003e \u003c\/span\u003e\u003cstrong data-mce-fragment=\"1\"\u003edifficult to\u003c\/strong\u003e\u003cspan data-mce-fragment=\"1\"\u003e \u003c\/span\u003e\u003cstrong data-mce-fragment=\"1\"\u003ereach\u003c\/strong\u003e\u003cspan data-mce-fragment=\"1\"\u003e \u003c\/span\u003ethose\u003cspan data-mce-fragment=\"1\"\u003e \u003c\/span\u003e\u003cstrong data-mce-fragment=\"1\"\u003espots on\u003c\/strong\u003e\u003cspan data-mce-fragment=\"1\"\u003e \u003c\/span\u003eour\u003cspan data-mce-fragment=\"1\"\u003e \u003c\/span\u003e\u003cstrong data-mce-fragment=\"1\"\u003ecars\u003c\/strong\u003e\u003cspan data-mce-fragment=\"1\"\u003e \u003c\/span\u003ethat are\u003cspan data-mce-fragment=\"1\"\u003e \u003c\/span\u003e\u003cstrong data-mce-fragment=\"1\"\u003efilled with dust and debris.\u003c\/strong\u003e\u003cspan data-mce-fragment=\"1\"\u003e \u003c\/span\u003eIt can be quite annoying to fully clean your car but still see dust and dirt appearing from somewhere. Now it is\u003cspan data-mce-fragment=\"1\"\u003e \u003c\/span\u003e\u003cstrong data-mce-fragment=\"1\"\u003epossible to completely clean\u003c\/strong\u003e\u003cspan data-mce-fragment=\"1\"\u003e \u003c\/span\u003eyour car\u003cspan data-mce-fragment=\"1\"\u003e \u003c\/span\u003e\u003cstrong data-mce-fragment=\"1\"\u003ewith\u003c\/strong\u003e\u003cspan data-mce-fragment=\"1\"\u003e \u003c\/span\u003ethis Cordless\u003cspan data-mce-fragment=\"1\"\u003e \u003c\/span\u003e\u003cstrong data-mce-fragment=\"1\"\u003ePortable Vacuum Cleaner\u003c\/strong\u003e\u003cspan data-mce-fragment=\"1\"\u003e \u003c\/span\u003efor Cars! \u003c\/p\u003e\n\u003cp data-mce-fragment=\"1\"\u003e\u003cimg src=\"https:\/\/cdn.shopify.com\/s\/files\/1\/0460\/7986\/9085\/files\/ezgif.com-gif-maker_57_480x480.gif?v=1636922390\" alt=\"\" width=\"537\" height=\"498\" data-mce-fragment=\"1\" data-mce-src=\"https:\/\/cdn.shopify.com\/s\/files\/1\/0460\/7986\/9085\/files\/ezgif.com-gif-maker_57_480x480.gif?v=1636922390\"\u003e\u003c\/p\u003e\n\u003ch3 style=\"text-align: center;\" data-mce-fragment=\"1\" data-mce-style=\"text-align: center;\"\u003e\u003cspan data-mce-fragment=\"1\"\u003e\u003cstrong data-mce-fragment=\"1\"\u003eSTRONG SUCTION POWER \u0026amp; CORDLESS DESIGN\u003c\/strong\u003e\u003c\/span\u003e\u003c\/h3\u003e\n\u003cp data-mce-fragment=\"1\"\u003e\u003cspan style=\"font-weight: 400;\" data-mce-fragment=\"1\" data-mce-style=\"font-weight: 400;\"\u003eThe handheld vacuum has a\u003cspan data-mce-fragment=\"1\"\u003e \u003c\/span\u003e\u003cstrong data-mce-fragment=\"1\"\u003epowerful suction power\u003c\/strong\u003e\u003cspan data-mce-fragment=\"1\"\u003e \u003c\/span\u003eof\u003cspan data-mce-fragment=\"1\"\u003e \u003c\/span\u003e\u003cstrong data-mce-fragment=\"1\"\u003e6000 Pa 120W power motor,\u003c\/strong\u003e\u003cspan data-mce-fragment=\"1\"\u003e \u003c\/span\u003ewhich is efficient in cleaning not only dust, pet hair, soot, paper scraps but also cat litter and liquids. The cordless handheld vacuum cleaner\u003cspan data-mce-fragment=\"1\"\u003e \u003c\/span\u003e\u003cstrong data-mce-fragment=\"1\"\u003ehelps free\u003c\/strong\u003e\u003cspan data-mce-fragment=\"1\"\u003e \u003c\/span\u003eyour\u003cspan data-mce-fragment=\"1\"\u003e \u003c\/span\u003e\u003cstrong data-mce-fragment=\"1\"\u003emovement to everywhere\u003c\/strong\u003e\u003cspan data-mce-fragment=\"1\"\u003e \u003c\/span\u003efor cleaning your stairs, furniture, car, or hard-to-reach corners.\u003c\/span\u003e\u003c\/p\u003e\n\u003cp data-mce-fragment=\"1\"\u003e\u003cimg height=\"543\" width=\"543\" src=\"https:\/\/cdn.shopify.com\/s\/files\/1\/0496\/6232\/8989\/files\/ezgif.com-gif-maker_2_480x480_ee972424-14a0-4944-bac0-ce297c37f18d_480x480.gif?v=1623421077\" alt=\"6000Pa Handheld Car Househ Portable Wireless Vacuum Cleaner SP\" data-mce-fragment=\"1\" data-mce-src=\"https:\/\/cdn.shopify.com\/s\/files\/1\/0496\/6232\/8989\/files\/ezgif.com-gif-maker_2_480x480_ee972424-14a0-4944-bac0-ce297c37f18d_480x480.gif?v=1623421077\"\u003e\u003c\/p\u003e\n\u003ch3 data-mce-fragment=\"1\"\u003e\u003cstrong data-mce-fragment=\"1\"\u003e\u003cspan data-mce-fragment=\"1\"\u003eUSB FAST CHARGING\u003c\/span\u003e\u003c\/strong\u003e\u003c\/h3\u003e\n\u003cp data-mce-fragment=\"1\"\u003e\u003cspan style=\"font-weight: 400;\" data-mce-fragment=\"1\" data-mce-style=\"font-weight: 400;\"\u003e\u003cstrong data-mce-fragment=\"1\"\u003e2-3H CHARGE 2200mAh lithium battery\u003c\/strong\u003e\u003cspan data-mce-fragment=\"1\"\u003e \u003c\/span\u003ecan be fully charged in 2-3H, and the cordless hand vacuum cleaner can be used for\u003cspan data-mce-fragment=\"1\"\u003e \u003c\/span\u003e\u003cstrong data-mce-fragment=\"1\"\u003e25-30 minutes\u003c\/strong\u003e\u003cspan data-mce-fragment=\"1\"\u003e \u003c\/span\u003eafter being\u003cspan data-mce-fragment=\"1\"\u003e \u003c\/span\u003e\u003cstrong data-mce-fragment=\"1\"\u003efully charged.\u003c\/strong\u003e With the\u003cspan data-mce-fragment=\"1\"\u003e \u003c\/span\u003e\u003cstrong data-mce-fragment=\"1\"\u003ebuilt-in USB Type-C port,\u003c\/strong\u003e\u003cspan data-mce-fragment=\"1\"\u003e \u003c\/span\u003eyou can quickly charge the vacuum cleaner, so you can always focus on the task of vacuuming. You can use the USB charging cable to connect the car charger,\u003c\/span\u003e\u003c\/p\u003e\n\u003cimg height=\"537\" width=\"537\" src=\"https:\/\/m.media-amazon.com\/images\/I\/614lX9n135L._AC_SL1500_.jpg\" data-mce-fragment=\"1\" data-mce-src=\"https:\/\/m.media-amazon.com\/images\/I\/614lX9n135L._AC_SL1500_.jpg\"\u003e\u003cbr data-mce-fragment=\"1\"\u003e\n\u003ch3 style=\"text-align: center;\" data-mce-fragment=\"1\" data-mce-style=\"text-align: center;\"\u003e\u003cspan data-mce-fragment=\"1\"\u003e\u003cstrong data-mce-fragment=\"1\"\u003e3 NOZZLES \u0026amp; 3 IN 1 USE\u003c\/strong\u003e\u003c\/span\u003e\u003c\/h3\u003e\n\u003cp data-mce-fragment=\"1\"\u003e\u003cspan data-mce-fragment=\"1\"\u003eThe portable vacuum cleaner \u003cstrong data-mce-fragment=\"1\"\u003ehas\u003c\/strong\u003e \u003cstrong data-mce-fragment=\"1\"\u003e3 accessories\u003c\/strong\u003e, which can meet your needs in different scenarios such as home, office, car, etc. \u003cstrong data-mce-fragment=\"1\"\u003eRubber nozzles\u003c\/strong\u003e are used to clean up leaking liquids; \u003cstrong data-mce-fragment=\"1\"\u003eslot nozzles\u003c\/strong\u003e are used for cleaning narrow spaces; \u003cstrong data-mce-fragment=\"1\"\u003ebrushes\u003c\/strong\u003e are used to clean snacks and hair on sofas or rugs; hoses can clean hard-to-reach areas.\u003c\/span\u003e\u003c\/p\u003e\n\u003cimg height=\"417\" width=\"543\" src=\"https:\/\/cdn.shopify.com\/s\/files\/1\/0460\/7986\/9085\/files\/ezgif.com-gif-maker_58_480x480.gif?v=1636999562\" alt=\"\" data-mce-fragment=\"1\" data-mce-src=\"https:\/\/cdn.shopify.com\/s\/files\/1\/0460\/7986\/9085\/files\/ezgif.com-gif-maker_58_480x480.gif?v=1636999562\"\u003e\u003cbr data-mce-fragment=\"1\"\u003e\n\u003ch3 style=\"text-align: center;\" data-mce-fragment=\"1\" data-mce-style=\"text-align: center;\"\u003e\u003cspan data-mce-fragment=\"1\"\u003e\u003cstrong data-mce-fragment=\"1\"\u003eLESS NOISE \u0026amp; MORE SAFETY PROTECTION\u003c\/strong\u003e\u003c\/span\u003e\u003c\/h3\u003e\n\u003cp data-mce-fragment=\"1\"\u003e\u003cspan style=\"font-weight: 400;\" data-mce-fragment=\"1\" data-mce-style=\"font-weight: 400;\"\u003eSoundproof cotton design of air outlet can\u003cspan data-mce-fragment=\"1\"\u003e \u003c\/span\u003e\u003cstrong data-mce-fragment=\"1\"\u003ereduce noise below 70dB,\u003c\/strong\u003e\u003cspan data-mce-fragment=\"1\"\u003e \u003c\/span\u003ewhich is\u003cspan data-mce-fragment=\"1\"\u003e \u003c\/span\u003e\u003cstrong data-mce-fragment=\"1\"\u003esuitable for families with pets.\u003c\/strong\u003e\u003cspan data-mce-fragment=\"1\"\u003e \u003c\/span\u003eOur vacuum cleaners have also passed CE safety certifications, adding\u003cspan data-mce-fragment=\"1\"\u003e \u003c\/span\u003e\u003cstrong data-mce-fragment=\"1\"\u003eover-voltage protection,\u003c\/strong\u003e\u003cspan data-mce-fragment=\"1\"\u003e \u003c\/span\u003eover current protection, and over-temperature protection to ensure your safety. It is a\u003cspan data-mce-fragment=\"1\"\u003e \u003c\/span\u003e\u003cstrong data-mce-fragment=\"1\"\u003egood gift\u003c\/strong\u003e\u003cspan data-mce-fragment=\"1\"\u003e \u003c\/span\u003efor parents\/friends when husbands\u003c\/span\u003e\u003c\/p\u003e\n\u003cp data-mce-fragment=\"1\"\u003e\u003cspan style=\"font-weight: 400;\" data-mce-fragment=\"1\" data-mce-style=\"font-weight: 400;\"\u003e\u003cimg height=\"408\" width=\"544\" src=\"https:\/\/cdn.shopify.com\/s\/files\/1\/0460\/7986\/9085\/files\/ezgif.com-gif-maker_59_480x480.gif?v=1636999852\" alt=\"\" data-mce-fragment=\"1\" data-mce-src=\"https:\/\/cdn.shopify.com\/s\/files\/1\/0460\/7986\/9085\/files\/ezgif.com-gif-maker_59_480x480.gif?v=1636999852\"\u003e\u003c\/span\u003e\u003c\/p\u003e\n\u003ch3 style=\"text-align: center;\" data-mce-fragment=\"1\" data-mce-style=\"text-align: center;\"\u003e\u003cspan data-mce-fragment=\"1\"\u003e\u003cstrong data-mce-fragment=\"1\"\u003ePORTABLE \u0026amp; LIGHTWEIGHT\u003c\/strong\u003e\u003c\/span\u003e\u003c\/h3\u003e\n\u003cp data-mce-fragment=\"1\"\u003e\u003cspan style=\"font-weight: 400;\" data-mce-fragment=\"1\" data-mce-style=\"font-weight: 400;\"\u003eThe Vacuum Cleaner is\u003cspan data-mce-fragment=\"1\"\u003e \u003c\/span\u003e\u003cstrong data-mce-fragment=\"1\"\u003eportable\u003c\/strong\u003e\u003cspan data-mce-fragment=\"1\"\u003e \u003c\/span\u003eand\u003cspan data-mce-fragment=\"1\"\u003e \u003c\/span\u003e\u003cstrong data-mce-fragment=\"1\"\u003ecomfortable to easy.\u003c\/strong\u003e\u003cspan data-mce-fragment=\"1\"\u003e \u003c\/span\u003eSay goodbye to that big vacuum equipment with lots of annoying cords. You can\u003cspan data-mce-fragment=\"1\"\u003e \u003c\/span\u003e\u003cstrong data-mce-fragment=\"1\"\u003eroam around\u003c\/strong\u003e\u003cspan data-mce-fragment=\"1\"\u003e \u003c\/span\u003eyour\u003cspan data-mce-fragment=\"1\"\u003e \u003c\/span\u003e\u003cstrong data-mce-fragment=\"1\"\u003ecard without\u003c\/strong\u003e\u003cspan data-mce-fragment=\"1\"\u003e \u003c\/span\u003eany\u003cspan data-mce-fragment=\"1\"\u003e \u003c\/span\u003e\u003cstrong data-mce-fragment=\"1\"\u003ecable tangling.\u003c\/strong\u003e The cordless design affords\u003cspan data-mce-fragment=\"1\"\u003e \u003c\/span\u003e\u003cstrong data-mce-fragment=\"1\"\u003efree mobility,\u003c\/strong\u003e\u003cspan data-mce-fragment=\"1\"\u003e \u003c\/span\u003eenabling easy cleanup at\u003cspan data-mce-fragment=\"1\"\u003e \u003c\/span\u003e\u003cstrong data-mce-fragment=\"1\"\u003eany time\u003c\/strong\u003e\u003cspan data-mce-fragment=\"1\"\u003e \u003c\/span\u003e\u0026amp;\u003cspan data-mce-fragment=\"1\"\u003e \u003c\/span\u003e\u003cstrong data-mce-fragment=\"1\"\u003eanywhere!\u003c\/strong\u003e\u003cspan data-mce-fragment=\"1\"\u003e \u003c\/span\u003eit can be placed in the car cup holder or the storage space under the car door\u003c\/span\u003e\u003c\/p\u003e\n\u003cbr data-mce-fragment=\"1\"\u003e\n\u003ch3 style=\"text-align: center;\" data-mce-fragment=\"1\" data-mce-style=\"text-align: center;\"\u003e\u003cspan data-mce-fragment=\"1\"\u003e\u003cstrong data-mce-fragment=\"1\"\u003eUNIQUE FILTER DESIGN \u0026amp; WET AND DRY USE\u003c\/strong\u003e\u003c\/span\u003e\u003c\/h3\u003e\n\u003cp data-mce-fragment=\"1\"\u003e\u003cspan style=\"font-weight: 400;\" data-mce-fragment=\"1\" data-mce-style=\"font-weight: 400;\"\u003eDue to the\u003cspan data-mce-fragment=\"1\"\u003e \u003c\/span\u003e\u003cstrong data-mce-fragment=\"1\"\u003eunique protection\u003c\/strong\u003e\u003cspan data-mce-fragment=\"1\"\u003e \u003c\/span\u003eof the\u003cspan data-mce-fragment=\"1\"\u003e \u003c\/span\u003e\u003cstrong data-mce-fragment=\"1\"\u003eexternal\u003c\/strong\u003e\u003cspan data-mce-fragment=\"1\"\u003e \u003c\/span\u003e\u003cstrong data-mce-fragment=\"1\"\u003efilter,\u003c\/strong\u003e\u003cspan data-mce-fragment=\"1\"\u003e \u003c\/span\u003eyou can use the vacuum cleaner to\u003cspan data-mce-fragment=\"1\"\u003e \u003c\/span\u003e\u003cstrong data-mce-fragment=\"1\"\u003esuck\u003c\/strong\u003e\u003cspan data-mce-fragment=\"1\"\u003e \u003c\/span\u003ethe\u003cspan data-mce-fragment=\"1\"\u003e \u003c\/span\u003e\u003cstrong data-mce-fragment=\"1\"\u003eliquid without worrying\u003c\/strong\u003e\u003cspan data-mce-fragment=\"1\"\u003e \u003c\/span\u003eabout the liquid entering the motor and damaging the machine. You can quickly \u0026amp; easily\u003cspan data-mce-fragment=\"1\"\u003e \u003c\/span\u003e\u003cstrong data-mce-fragment=\"1\"\u003eclean\u003c\/strong\u003e\u003cspan data-mce-fragment=\"1\"\u003e \u003c\/span\u003e\u003cstrong data-mce-fragment=\"1\"\u003eany wet\u003c\/strong\u003e\u003cspan data-mce-fragment=\"1\"\u003e \u003c\/span\u003e\u003cstrong data-mce-fragment=\"1\"\u003eand dry waste\u003c\/strong\u003e\u003cspan data-mce-fragment=\"1\"\u003e \u003c\/span\u003esuch as pet hair, dust, debris, and liquids to fresh up your surroundings!\u003c\/span\u003e\u003c\/p\u003e\n\u003cp style=\"text-align: center;\" data-mce-fragment=\"1\"\u003e\u003cimg alt=\"\" src=\"https:\/\/cdn.shopify.com\/s\/files\/1\/0460\/7986\/9085\/files\/mainimage5Portable-120W-Car-Vacuum-Cleaner-Wet-And-Dry-Handheld-Rechargeable-Vacuum-Cleaner-6000Pa-Auto-Home-Interior_900x_4da24064-9677-4a6b-93a4-f8b56bf70e96_480x480.jpg?v=1641198853\" width=\"472\" height=\"472\"\u003e\u003c\/p\u003e\n\u003ch3 style=\"text-align: center;\" data-mce-fragment=\"1\" data-mce-style=\"text-align: center;\"\u003e\u003cspan data-mce-fragment=\"1\"\u003e\u003cstrong data-mce-fragment=\"1\"\u003eHIGH-EFFICIENCY HEPA FILTER SYSTEM\u003c\/strong\u003e\u003c\/span\u003e\u003c\/h3\u003e\n\u003cp data-mce-fragment=\"1\"\u003e\u003cspan style=\"font-weight: 400;\" data-mce-fragment=\"1\" data-mce-style=\"font-weight: 400;\"\u003eThe vacuum cleaner is equipped with an\u003cspan data-mce-fragment=\"1\"\u003e \u003c\/span\u003e\u003cstrong data-mce-fragment=\"1\"\u003eadvanced double-layer HEPA (high-efficiency particulate air)\u003c\/strong\u003e\u003cspan data-mce-fragment=\"1\"\u003e \u003c\/span\u003efilter system. It can\u003cspan data-mce-fragment=\"1\"\u003e \u003c\/span\u003e\u003cstrong data-mce-fragment=\"1\"\u003ecapture 99.5%\u003c\/strong\u003e\u003cspan data-mce-fragment=\"1\"\u003e \u003c\/span\u003eof\u003cspan data-mce-fragment=\"1\"\u003e \u003c\/span\u003e\u003cstrong data-mce-fragment=\"1\"\u003esmall particles\u003c\/strong\u003e\u003cspan data-mce-fragment=\"1\"\u003e \u003c\/span\u003eand pollutants as small as 0.5μm (1\/120 of the diameter of a human hair), thereby effectively preventing pollutants from being released into the air in the exhaust gas.\u003c\/span\u003e\u003c\/p\u003e\n\u003cdiv style=\"text-align: center;\"\u003e\u003cimg alt=\"\" src=\"https:\/\/cdn.shopify.com\/s\/files\/1\/0460\/7986\/9085\/files\/mainimage2Portable-120W-Car-Vacuum-Cleaner-Wet-And-Dry-Handheld-Rechargeable-Vacuum-Cleaner-6000Pa-Auto-Home-Interior_900x_e1a04f69-724f-4293-921c-59fc8f5791c2_480x480.jpg?v=1641198898\"\u003e\u003c\/div\u003e\n\u003ch3 data-mce-fragment=\"1\"\u003e\u003cspan data-mce-fragment=\"1\"\u003eCOMPACT, INNOVATIVE, LUXURIOUS DESIGN\u003c\/span\u003e\u003c\/h3\u003e\n\u003cp data-mce-fragment=\"1\"\u003e\u003cspan style=\"font-weight: 400;\" data-mce-fragment=\"1\" data-mce-style=\"font-weight: 400;\"\u003eThe cordless handheld vacuum cleaner\u003cspan data-mce-fragment=\"1\"\u003e \u003c\/span\u003e\u003cstrong data-mce-fragment=\"1\"\u003eadopts\u003c\/strong\u003e\u003cspan data-mce-fragment=\"1\"\u003e \u003c\/span\u003ean\u003cspan data-mce-fragment=\"1\"\u003e \u003c\/span\u003e\u003cstrong data-mce-fragment=\"1\"\u003eintelligent design\u003c\/strong\u003e\u003cspan data-mce-fragment=\"1\"\u003e \u003c\/span\u003eand has enough\u003cspan data-mce-fragment=\"1\"\u003e \u003c\/span\u003e\u003cstrong data-mce-fragment=\"1\"\u003erotating suction power,\u003c\/strong\u003e\u003cspan data-mce-fragment=\"1\"\u003e \u003c\/span\u003ewhich can not only clean the\u003cspan data-mce-fragment=\"1\"\u003e \u003c\/span\u003e\u003cstrong data-mce-fragment=\"1\"\u003ecar, office,\u003c\/strong\u003e\u003cspan data-mce-fragment=\"1\"\u003e \u003c\/span\u003eand\u003cspan data-mce-fragment=\"1\"\u003e \u003c\/span\u003e\u003cstrong data-mce-fragment=\"1\"\u003ehome.\u003c\/strong\u003e\u003cspan data-mce-fragment=\"1\"\u003e \u003c\/span\u003eNo matter where you are, this is the only handheld vacuum cleaner you need to polish every day. Vacuuming is\u003cspan data-mce-fragment=\"1\"\u003e \u003c\/span\u003e\u003cstrong data-mce-fragment=\"1\"\u003eeasier\u003c\/strong\u003e\u003cspan data-mce-fragment=\"1\"\u003e \u003c\/span\u003eand\u003cspan data-mce-fragment=\"1\"\u003e \u003c\/span\u003e\u003cstrong data-mce-fragment=\"1\"\u003emore fun than ever.\u003c\/strong\u003e\u003c\/span\u003e\u003c\/p\u003e\n\u003cp data-mce-fragment=\"1\"\u003e\u003cspan style=\"font-weight: 400;\" data-mce-fragment=\"1\" data-mce-style=\"font-weight: 400;\"\u003e\u003cimg src=\"https:\/\/m.media-amazon.com\/images\/I\/71m+j2m7gyL._AC_SL1200_.jpg\" width=\"540\" height=\"540\" data-mce-fragment=\"1\" data-mce-src=\"https:\/\/m.media-amazon.com\/images\/I\/71m+j2m7gyL._AC_SL1200_.jpg\"\u003e\u003c\/span\u003e\u003cbr data-mce-fragment=\"1\"\u003e\u003cstrong data-mce-fragment=\"1\"\u003e\u003cspan data-mce-fragment=\"1\" mce-data-marked=\"1\"\u003eSPECIFICATIONS:\u003c\/span\u003e\u003c\/strong\u003e\u003c\/p\u003e\n\u003cp data-mce-fragment=\"1\"\u003e\u003cspan data-mce-fragment=\"1\"\u003eMaterial: ABS.\u003c\/span\u003e\u003cbr data-mce-fragment=\"1\"\u003e\u003cspan data-mce-fragment=\"1\"\u003eColor: Black, white.\u003c\/span\u003e\u003cbr data-mce-fragment=\"1\"\u003e\u003cspan data-mce-fragment=\"1\"\u003eSize: 368x65x35mm.\u003c\/span\u003e\u003cbr data-mce-fragment=\"1\"\u003e\u003cspan data-mce-fragment=\"1\"\u003eRated rotating speed: 4000 r\/min.\u003c\/span\u003e\u003cbr data-mce-fragment=\"1\"\u003e\u003cspan data-mce-fragment=\"1\"\u003eRated voltage: 12V.\u003c\/span\u003e\u003cbr data-mce-fragment=\"1\"\u003e\u003cspan data-mce-fragment=\"1\"\u003eRated input power: 120W.\u003c\/span\u003e\u003cbr data-mce-fragment=\"1\"\u003e\u003cspan data-mce-fragment=\"1\"\u003eVacuum force: 6000pa.\u003c\/span\u003e\u003cbr data-mce-fragment=\"1\"\u003e\u003cspan data-mce-fragment=\"1\"\u003eBattery: Rechargeable battery. (Built-in)(Rechargeable type)\u003c\/span\u003e\u003c\/p\u003e\n\u003cp data-mce-fragment=\"1\"\u003e \u003cstrong data-mce-fragment=\"1\"\u003ePACKAGE INCLUDES:\u003c\/strong\u003e\u003c\/p\u003e\n\u003cul data-mce-fragment=\"1\"\u003e\n\u003cli data-mce-fragment=\"1\"\u003e\u003cspan data-mce-fragment=\"1\"\u003e1 x Brush\u003c\/span\u003e\u003c\/li\u003e\n\u003cli data-mce-fragment=\"1\"\u003e\u003cspan data-mce-fragment=\"1\"\u003e1 x Long Flat Brush\u003c\/span\u003e\u003c\/li\u003e\n\u003cli data-mce-fragment=\"1\"\u003e\u003cspan data-mce-fragment=\"1\"\u003e1 x Auxiliary Connector\u003c\/span\u003e\u003c\/li\u003e\n\u003cli data-mce-fragment=\"1\"\u003e\u003cspan data-mce-fragment=\"1\"\u003e1 x USB Charging Cable\u003c\/span\u003e\u003c\/li\u003e\n\u003c\/ul\u003e\n\u003cp data-mce-fragment=\"1\"\u003e \u003c\/p\u003e","published_at":"2021-11-24T05:37:14+00:00","created_at":"2021-11-24T05:37:14+00:00","vendor":"Emmadi Store","type":"","tags":[],"price":999,"price_min":999,"price_max":2998,"available":true,"price_varies":true,"compare_at_price":1499,"compare_at_price_min":1499,"compare_at_price_max":3998,"compare_at_price_varies":true,"variants":[{"id":41292953125058,"title":"Car model black","option1":"Car model black","option2":null,"option3":null,"sku":"42679639-china-car-model-black","requires_shipping":true,"taxable":false,"featured_image":null,"available":true,"name":"PORTABLE WIRELESS HANDHELD MINI VACUUM CLEANER FOR CAR AND HOME - Car model black","public_title":"Car model black","options":["Car model black"],"price":999,"weight":0,"compare_at_price":1499,"inventory_management":"shopify","barcode":"","requires_selling_plan":false,"selling_plan_allocations":[]},{"id":41292953157826,"title":"Wireless white","option1":"Wireless white","option2":null,"option3":null,"sku":"42679639-china-wireless-white","requires_shipping":true,"taxable":false,"featured_image":null,"available":true,"name":"PORTABLE WIRELESS HANDHELD MINI VACUUM CLEANER FOR CAR AND HOME - Wireless white","public_title":"Wireless white","options":["Wireless white"],"price":2998,"weight":0,"compare_at_price":3998,"inventory_management":"shopify","barcode":"","requires_selling_plan":false,"selling_plan_allocations":[]},{"id":41292953190594,"title":"Wireless black","option1":"Wireless black","option2":null,"option3":null,"sku":"42679639-china-wireless-black","requires_shipping":true,"taxable":false,"featured_image":null,"available":true,"name":"PORTABLE WIRELESS HANDHELD MINI VACUUM CLEANER FOR CAR AND HOME - Wireless black","public_title":"Wireless black","options":["Wireless black"],"price":2998,"weight":0,"compare_at_price":3998,"inventory_management":"shopify","barcode":"","requires_selling_plan":false,"selling_plan_allocations":[]},{"id":41292953223362,"title":"Car model white","option1":"Car model white","option2":null,"option3":null,"sku":"42679639-china-car-model-white","requires_shipping":true,"taxable":false,"featured_image":null,"available":true,"name":"PORTABLE WIRELESS HANDHELD MINI VACUUM CLEANER FOR CAR AND HOME - Car model white","public_title":"Car model white","options":["Car model white"],"price":2998,"weight":0,"compare_at_price":3998,"inventory_management":"shopify","barcode":"","requires_selling_plan":false,"selling_plan_allocations":[]}],"images":["\/\/cdn.shopify.com\/s\/files\/1\/0460\/7986\/9085\/products\/mainimage0Wireless-car-vacuum-cleaner-portable-with-handheld-vacuum-cleaner-car-household-dual-use-120W6000pa-strong-suction_b2fabaf3-56c8-4e1f-acbf-8410c64d04cf.jpg?v=1638304363","\/\/cdn.shopify.com\/s\/files\/1\/0460\/7986\/9085\/products\/mainimage1Portable-120W-Car-Vacuum-Cleaner-Wet-And-Dry-Handheld-Rechargeable-Vacuum-Cleaner-6000Pa-Auto-Home-Interior_7b309cc6-5af5-4f69-bd33-cd68c595932e.jpg?v=1638304363","\/\/cdn.shopify.com\/s\/files\/1\/0460\/7986\/9085\/products\/mainimage2Portable-120W-Car-Vacuum-Cleaner-Wet-And-Dry-Handheld-Rechargeable-Vacuum-Cleaner-6000Pa-Auto-Home-Interior_94e3da21-32b0-4881-8278-94294454207d.jpg?v=1638304363","\/\/cdn.shopify.com\/s\/files\/1\/0460\/7986\/9085\/products\/mainimage3Wireless-car-vacuum-cleaner-portable-with-handheld-vacuum-cleaner-car-household-dual-use-120W6000pa-strong-suction_f3086099-0746-4a4d-8b54-51ad84d187d8.jpg?v=1638304363","\/\/cdn.shopify.com\/s\/files\/1\/0460\/7986\/9085\/products\/descriptionimage11H0c8ac4b759904d41a18ace430e22c72eR_b80bb213-6e37-4452-bbfd-161b3416eb3f.jpg?v=1638304363","\/\/cdn.shopify.com\/s\/files\/1\/0460\/7986\/9085\/products\/mainimage4Portable-120W-Car-Vacuum-Cleaner-Wet-And-Dry-Handheld-Rechargeable-Vacuum-Cleaner-6000Pa-Auto-Home-Interior_bdbb3790-4c1e-405a-bc7f-1eb7cd04d8aa.jpg?v=1638304245","\/\/cdn.shopify.com\/s\/files\/1\/0460\/7986\/9085\/products\/mainimage5Portable-120W-Car-Vacuum-Cleaner-Wet-And-Dry-Handheld-Rechargeable-Vacuum-Cleaner-6000Pa-Auto-Home-Interior_81ff0ec4-66b1-4967-a93b-2fde4cb83bd4.jpg?v=1638304252","\/\/cdn.shopify.com\/s\/files\/1\/0460\/7986\/9085\/products\/mainimage5120W-Car-Vacuum-Cleaner-Wireless-6000PA-Strong-Suction-Power-Handheld-Cordless-Dry-wet-Dual-use-Vacuum_16ecfdbe-5e4a-4c27-98ab-4ddf5d790237.jpg?v=1638304260"],"featured_image":"\/\/cdn.shopify.com\/s\/files\/1\/0460\/7986\/9085\/products\/mainimage0Wireless-car-vacuum-cleaner-portable-with-handheld-vacuum-cleaner-car-household-dual-use-120W6000pa-strong-suction_b2fabaf3-56c8-4e1f-acbf-8410c64d04cf.jpg?v=1638304363","options":["Color"],"media":[{"alt":null,"id":23590764511426,"position":1,"preview_image":{"aspect_ratio":1.0,"height":1020,"width":1020,"src":"https:\/\/cdn.shopify.com\/s\/files\/1\/0460\/7986\/9085\/products\/mainimage0Wireless-car-vacuum-cleaner-portable-with-handheld-vacuum-cleaner-car-household-dual-use-120W6000pa-strong-suction_b2fabaf3-56c8-4e1f-acbf-8410c64d04cf.jpg?v=1638304363"},"aspect_ratio":1.0,"height":1020,"media_type":"image","src":"https:\/\/cdn.shopify.com\/s\/files\/1\/0460\/7986\/9085\/products\/mainimage0Wireless-car-vacuum-cleaner-portable-with-handheld-vacuum-cleaner-car-household-dual-use-120W6000pa-strong-suction_b2fabaf3-56c8-4e1f-acbf-8410c64d04cf.jpg?v=1638304363","width":1020},{"alt":null,"id":23590751109314,"position":2,"preview_image":{"aspect_ratio":1.0,"height":800,"width":800,"src":"https:\/\/cdn.shopify.com\/s\/files\/1\/0460\/7986\/9085\/products\/mainimage1Portable-120W-Car-Vacuum-Cleaner-Wet-And-Dry-Handheld-Rechargeable-Vacuum-Cleaner-6000Pa-Auto-Home-Interior_7b309cc6-5af5-4f69-bd33-cd68c595932e.jpg?v=1638304363"},"aspect_ratio":1.0,"height":800,"media_type":"image","src":"https:\/\/cdn.shopify.com\/s\/files\/1\/0460\/7986\/9085\/products\/mainimage1Portable-120W-Car-Vacuum-Cleaner-Wet-And-Dry-Handheld-Rechargeable-Vacuum-Cleaner-6000Pa-Auto-Home-Interior_7b309cc6-5af5-4f69-bd33-cd68c595932e.jpg?v=1638304363","width":800},{"alt":null,"id":23590751404226,"position":3,"preview_image":{"aspect_ratio":1.0,"height":800,"width":800,"src":"https:\/\/cdn.shopify.com\/s\/files\/1\/0460\/7986\/9085\/products\/mainimage2Portable-120W-Car-Vacuum-Cleaner-Wet-And-Dry-Handheld-Rechargeable-Vacuum-Cleaner-6000Pa-Auto-Home-Interior_94e3da21-32b0-4881-8278-94294454207d.jpg?v=1638304363"},"aspect_ratio":1.0,"height":800,"media_type":"image","src":"https:\/\/cdn.shopify.com\/s\/files\/1\/0460\/7986\/9085\/products\/mainimage2Portable-120W-Car-Vacuum-Cleaner-Wet-And-Dry-Handheld-Rechargeable-Vacuum-Cleaner-6000Pa-Auto-Home-Interior_94e3da21-32b0-4881-8278-94294454207d.jpg?v=1638304363","width":800},{"alt":null,"id":23590758121666,"position":4,"preview_image":{"aspect_ratio":1.0,"height":1020,"width":1020,"src":"https:\/\/cdn.shopify.com\/s\/files\/1\/0460\/7986\/9085\/products\/mainimage3Wireless-car-vacuum-cleaner-portable-with-handheld-vacuum-cleaner-car-household-dual-use-120W6000pa-strong-suction_f3086099-0746-4a4d-8b54-51ad84d187d8.jpg?v=1638304363"},"aspect_ratio":1.0,"height":1020,"media_type":"image","src":"https:\/\/cdn.shopify.com\/s\/files\/1\/0460\/7986\/9085\/products\/mainimage3Wireless-car-vacuum-cleaner-portable-with-handheld-vacuum-cleaner-car-household-dual-use-120W6000pa-strong-suction_f3086099-0746-4a4d-8b54-51ad84d187d8.jpg?v=1638304363","width":1020},{"alt":null,"id":23590760972482,"position":5,"preview_image":{"aspect_ratio":1.096,"height":821,"width":900,"src":"https:\/\/cdn.shopify.com\/s\/files\/1\/0460\/7986\/9085\/products\/descriptionimage11H0c8ac4b759904d41a18ace430e22c72eR_b80bb213-6e37-4452-bbfd-161b3416eb3f.jpg?v=1638304363"},"aspect_ratio":1.096,"height":821,"media_type":"image","src":"https:\/\/cdn.shopify.com\/s\/files\/1\/0460\/7986\/9085\/products\/descriptionimage11H0c8ac4b759904d41a18ace430e22c72eR_b80bb213-6e37-4452-bbfd-161b3416eb3f.jpg?v=1638304363","width":900},{"alt":null,"id":23590768804034,"position":6,"preview_image":{"aspect_ratio":0.903,"height":875,"width":790,"src":"https:\/\/cdn.shopify.com\/s\/files\/1\/0460\/7986\/9085\/products\/mainimage4Portable-120W-Car-Vacuum-Cleaner-Wet-And-Dry-Handheld-Rechargeable-Vacuum-Cleaner-6000Pa-Auto-Home-Interior_bdbb3790-4c1e-405a-bc7f-1eb7cd04d8aa.jpg?v=1638304245"},"aspect_ratio":0.903,"height":875,"media_type":"image","src":"https:\/\/cdn.shopify.com\/s\/files\/1\/0460\/7986\/9085\/products\/mainimage4Portable-120W-Car-Vacuum-Cleaner-Wet-And-Dry-Handheld-Rechargeable-Vacuum-Cleaner-6000Pa-Auto-Home-Interior_bdbb3790-4c1e-405a-bc7f-1eb7cd04d8aa.jpg?v=1638304245","width":790},{"alt":null,"id":23590772048066,"position":7,"preview_image":{"aspect_ratio":1.0,"height":800,"width":800,"src":"https:\/\/cdn.shopify.com\/s\/files\/1\/0460\/7986\/9085\/products\/mainimage5Portable-120W-Car-Vacuum-Cleaner-Wet-And-Dry-Handheld-Rechargeable-Vacuum-Cleaner-6000Pa-Auto-Home-Interior_81ff0ec4-66b1-4967-a93b-2fde4cb83bd4.jpg?v=1638304252"},"aspect_ratio":1.0,"height":800,"media_type":"image","src":"https:\/\/cdn.shopify.com\/s\/files\/1\/0460\/7986\/9085\/products\/mainimage5Portable-120W-Car-Vacuum-Cleaner-Wet-And-Dry-Handheld-Rechargeable-Vacuum-Cleaner-6000Pa-Auto-Home-Interior_81ff0ec4-66b1-4967-a93b-2fde4cb83bd4.jpg?v=1638304252","width":800},{"alt":null,"id":23590774210754,"position":8,"preview_image":{"aspect_ratio":1.0,"height":800,"width":800,"src":"https:\/\/cdn.shopify.com\/s\/files\/1\/0460\/7986\/9085\/products\/mainimage5120W-Car-Vacuum-Cleaner-Wireless-6000PA-Strong-Suction-Power-Handheld-Cordless-Dry-wet-Dual-use-Vacuum_16ecfdbe-5e4a-4c27-98ab-4ddf5d790237.jpg?v=1638304260"},"aspect_ratio":1.0,"height":800,"media_type":"image","src":"https:\/\/cdn.shopify.com\/s\/files\/1\/0460\/7986\/9085\/products\/mainimage5120W-Car-Vacuum-Cleaner-Wireless-6000PA-Strong-Suction-Power-Handheld-Cordless-Dry-wet-Dual-use-Vacuum_16ecfdbe-5e4a-4c27-98ab-4ddf5d790237.jpg?v=1638304260","width":800}],"requires_selling_plan":false,"selling_plan_groups":[],"content":"\u003ch3 style=\"text-align: center;\" data-mce-fragment=\"1\" data-mce-style=\"text-align: center;\"\u003e\u003cstrong data-mce-fragment=\"1\"\u003e\u003cspan data-mce-fragment=\"1\"\u003eMAINTAIN YOUR CAR EXTRA CLEAN WITH THE BEST PORTABLE VACUUM CLEANER\u003c\/span\u003e\u003c\/strong\u003e\u003c\/h3\u003e\n\u003ch4 style=\"text-align: center;\" data-mce-fragment=\"1\" data-mce-style=\"text-align: center;\"\u003e\u003cstrong data-mce-fragment=\"1\"\u003e\u003cspan data-mce-fragment=\"1\"\u003eNO MORE CRUMBS, DUST, OR DIRT!\u003c\/span\u003e\u003c\/strong\u003e\u003c\/h4\u003e\n\u003ch4 style=\"text-align: center;\" data-mce-fragment=\"1\" data-mce-style=\"text-align: center;\"\u003e\u003cstrong data-mce-fragment=\"1\"\u003eCONVENIENTLY HELPING YOU TO TIDY UP EVERY SINGLE CORNER OF YOUR VEHICLE AND HOUSE\u003c\/strong\u003e\u003c\/h4\u003e\n\u003cp data-mce-fragment=\"1\"\u003e\u003cimg src=\"https:\/\/i.makeagif.com\/media\/4-06-2019\/uqjtwQ.gif\" alt=\"Introducing the Shark Cordless Handheld Vacuum Cleaner [Single Battery] WV200UK on Make a GIF\" width=\"554\" height=\"311\" data-mce-fragment=\"1\" data-mce-src=\"https:\/\/i.makeagif.com\/media\/4-06-2019\/uqjtwQ.gif\"\u003e\u003c\/p\u003e\n\u003ch3 style=\"text-align: center;\" data-mce-fragment=\"1\" data-mce-style=\"text-align: center;\"\u003e\u003cspan data-mce-fragment=\"1\"\u003e\u003cstrong data-mce-fragment=\"1\"\u003eFULLY CLEAN YOUR CAR\u003c\/strong\u003e\u003c\/span\u003e\u003c\/h3\u003e\n\u003cp data-mce-fragment=\"1\"\u003eSometimes it can be\u003cspan data-mce-fragment=\"1\"\u003e \u003c\/span\u003e\u003cstrong data-mce-fragment=\"1\"\u003edifficult to\u003c\/strong\u003e\u003cspan data-mce-fragment=\"1\"\u003e \u003c\/span\u003e\u003cstrong data-mce-fragment=\"1\"\u003ereach\u003c\/strong\u003e\u003cspan data-mce-fragment=\"1\"\u003e \u003c\/span\u003ethose\u003cspan data-mce-fragment=\"1\"\u003e \u003c\/span\u003e\u003cstrong data-mce-fragment=\"1\"\u003espots on\u003c\/strong\u003e\u003cspan data-mce-fragment=\"1\"\u003e \u003c\/span\u003eour\u003cspan data-mce-fragment=\"1\"\u003e \u003c\/span\u003e\u003cstrong data-mce-fragment=\"1\"\u003ecars\u003c\/strong\u003e\u003cspan data-mce-fragment=\"1\"\u003e \u003c\/span\u003ethat are\u003cspan data-mce-fragment=\"1\"\u003e \u003c\/span\u003e\u003cstrong data-mce-fragment=\"1\"\u003efilled with dust and debris.\u003c\/strong\u003e\u003cspan data-mce-fragment=\"1\"\u003e \u003c\/span\u003eIt can be quite annoying to fully clean your car but still see dust and dirt appearing from somewhere. Now it is\u003cspan data-mce-fragment=\"1\"\u003e \u003c\/span\u003e\u003cstrong data-mce-fragment=\"1\"\u003epossible to completely clean\u003c\/strong\u003e\u003cspan data-mce-fragment=\"1\"\u003e \u003c\/span\u003eyour car\u003cspan data-mce-fragment=\"1\"\u003e \u003c\/span\u003e\u003cstrong data-mce-fragment=\"1\"\u003ewith\u003c\/strong\u003e\u003cspan data-mce-fragment=\"1\"\u003e \u003c\/span\u003ethis Cordless\u003cspan data-mce-fragment=\"1\"\u003e \u003c\/span\u003e\u003cstrong data-mce-fragment=\"1\"\u003ePortable Vacuum Cleaner\u003c\/strong\u003e\u003cspan data-mce-fragment=\"1\"\u003e \u003c\/span\u003efor Cars! \u003c\/p\u003e\n\u003cp data-mce-fragment=\"1\"\u003e\u003cimg src=\"https:\/\/cdn.shopify.com\/s\/files\/1\/0460\/7986\/9085\/files\/ezgif.com-gif-maker_57_480x480.gif?v=1636922390\" alt=\"\" width=\"537\" height=\"498\" data-mce-fragment=\"1\" data-mce-src=\"https:\/\/cdn.shopify.com\/s\/files\/1\/0460\/7986\/9085\/files\/ezgif.com-gif-maker_57_480x480.gif?v=1636922390\"\u003e\u003c\/p\u003e\n\u003ch3 style=\"text-align: center;\" data-mce-fragment=\"1\" data-mce-style=\"text-align: center;\"\u003e\u003cspan data-mce-fragment=\"1\"\u003e\u003cstrong data-mce-fragment=\"1\"\u003eSTRONG SUCTION POWER \u0026amp; CORDLESS DESIGN\u003c\/strong\u003e\u003c\/span\u003e\u003c\/h3\u003e\n\u003cp data-mce-fragment=\"1\"\u003e\u003cspan style=\"font-weight: 400;\" data-mce-fragment=\"1\" data-mce-style=\"font-weight: 400;\"\u003eThe handheld vacuum has a\u003cspan data-mce-fragment=\"1\"\u003e \u003c\/span\u003e\u003cstrong data-mce-fragment=\"1\"\u003epowerful suction power\u003c\/strong\u003e\u003cspan data-mce-fragment=\"1\"\u003e \u003c\/span\u003eof\u003cspan data-mce-fragment=\"1\"\u003e \u003c\/span\u003e\u003cstrong data-mce-fragment=\"1\"\u003e6000 Pa 120W power motor,\u003c\/strong\u003e\u003cspan data-mce-fragment=\"1\"\u003e \u003c\/span\u003ewhich is efficient in cleaning not only dust, pet hair, soot, paper scraps but also cat litter and liquids. The cordless handheld vacuum cleaner\u003cspan data-mce-fragment=\"1\"\u003e \u003c\/span\u003e\u003cstrong data-mce-fragment=\"1\"\u003ehelps free\u003c\/strong\u003e\u003cspan data-mce-fragment=\"1\"\u003e \u003c\/span\u003eyour\u003cspan data-mce-fragment=\"1\"\u003e \u003c\/span\u003e\u003cstrong data-mce-fragment=\"1\"\u003emovement to everywhere\u003c\/strong\u003e\u003cspan data-mce-fragment=\"1\"\u003e \u003c\/span\u003efor cleaning your stairs, furniture, car, or hard-to-reach corners.\u003c\/span\u003e\u003c\/p\u003e\n\u003cp data-mce-fragment=\"1\"\u003e\u003cimg height=\"543\" width=\"543\" src=\"https:\/\/cdn.shopify.com\/s\/files\/1\/0496\/6232\/8989\/files\/ezgif.com-gif-maker_2_480x480_ee972424-14a0-4944-bac0-ce297c37f18d_480x480.gif?v=1623421077\" alt=\"6000Pa Handheld Car Househ Portable Wireless Vacuum Cleaner SP\" data-mce-fragment=\"1\" data-mce-src=\"https:\/\/cdn.shopify.com\/s\/files\/1\/0496\/6232\/8989\/files\/ezgif.com-gif-maker_2_480x480_ee972424-14a0-4944-bac0-ce297c37f18d_480x480.gif?v=1623421077\"\u003e\u003c\/p\u003e\n\u003ch3 data-mce-fragment=\"1\"\u003e\u003cstrong data-mce-fragment=\"1\"\u003e\u003cspan data-mce-fragment=\"1\"\u003eUSB FAST CHARGING\u003c\/span\u003e\u003c\/strong\u003e\u003c\/h3\u003e\n\u003cp data-mce-fragment=\"1\"\u003e\u003cspan style=\"font-weight: 400;\" data-mce-fragment=\"1\" data-mce-style=\"font-weight: 400;\"\u003e\u003cstrong data-mce-fragment=\"1\"\u003e2-3H CHARGE 2200mAh lithium battery\u003c\/strong\u003e\u003cspan data-mce-fragment=\"1\"\u003e \u003c\/span\u003ecan be fully charged in 2-3H, and the cordless hand vacuum cleaner can be used for\u003cspan data-mce-fragment=\"1\"\u003e \u003c\/span\u003e\u003cstrong data-mce-fragment=\"1\"\u003e25-30 minutes\u003c\/strong\u003e\u003cspan data-mce-fragment=\"1\"\u003e \u003c\/span\u003eafter being\u003cspan data-mce-fragment=\"1\"\u003e \u003c\/span\u003e\u003cstrong data-mce-fragment=\"1\"\u003efully charged.\u003c\/strong\u003e With the\u003cspan data-mce-fragment=\"1\"\u003e \u003c\/span\u003e\u003cstrong data-mce-fragment=\"1\"\u003ebuilt-in USB Type-C port,\u003c\/strong\u003e\u003cspan data-mce-fragment=\"1\"\u003e \u003c\/span\u003eyou can quickly charge the vacuum cleaner, so you can always focus on the task of vacuuming. You can use the USB charging cable to connect the car charger,\u003c\/span\u003e\u003c\/p\u003e\n\u003cimg height=\"537\" width=\"537\" src=\"https:\/\/m.media-amazon.com\/images\/I\/614lX9n135L._AC_SL1500_.jpg\" data-mce-fragment=\"1\" data-mce-src=\"https:\/\/m.media-amazon.com\/images\/I\/614lX9n135L._AC_SL1500_.jpg\"\u003e\u003cbr data-mce-fragment=\"1\"\u003e\n\u003ch3 style=\"text-align: center;\" data-mce-fragment=\"1\" data-mce-style=\"text-align: center;\"\u003e\u003cspan data-mce-fragment=\"1\"\u003e\u003cstrong data-mce-fragment=\"1\"\u003e3 NOZZLES \u0026amp; 3 IN 1 USE\u003c\/strong\u003e\u003c\/span\u003e\u003c\/h3\u003e\n\u003cp data-mce-fragment=\"1\"\u003e\u003cspan data-mce-fragment=\"1\"\u003eThe portable vacuum cleaner \u003cstrong data-mce-fragment=\"1\"\u003ehas\u003c\/strong\u003e \u003cstrong data-mce-fragment=\"1\"\u003e3 accessories\u003c\/strong\u003e, which can meet your needs in different scenarios such as home, office, car, etc. \u003cstrong data-mce-fragment=\"1\"\u003eRubber nozzles\u003c\/strong\u003e are used to clean up leaking liquids; \u003cstrong data-mce-fragment=\"1\"\u003eslot nozzles\u003c\/strong\u003e are used for cleaning narrow spaces; \u003cstrong data-mce-fragment=\"1\"\u003ebrushes\u003c\/strong\u003e are used to clean snacks and hair on sofas or rugs; hoses can clean hard-to-reach areas.\u003c\/span\u003e\u003c\/p\u003e\n\u003cimg height=\"417\" width=\"543\" src=\"https:\/\/cdn.shopify.com\/s\/files\/1\/0460\/7986\/9085\/files\/ezgif.com-gif-maker_58_480x480.gif?v=1636999562\" alt=\"\" data-mce-fragment=\"1\" data-mce-src=\"https:\/\/cdn.shopify.com\/s\/files\/1\/0460\/7986\/9085\/files\/ezgif.com-gif-maker_58_480x480.gif?v=1636999562\"\u003e\u003cbr data-mce-fragment=\"1\"\u003e\n\u003ch3 style=\"text-align: center;\" data-mce-fragment=\"1\" data-mce-style=\"text-align: center;\"\u003e\u003cspan data-mce-fragment=\"1\"\u003e\u003cstrong data-mce-fragment=\"1\"\u003eLESS NOISE \u0026amp; MORE SAFETY PROTECTION\u003c\/strong\u003e\u003c\/span\u003e\u003c\/h3\u003e\n\u003cp data-mce-fragment=\"1\"\u003e\u003cspan style=\"font-weight: 400;\" data-mce-fragment=\"1\" data-mce-style=\"font-weight: 400;\"\u003eSoundproof cotton design of air outlet can\u003cspan data-mce-fragment=\"1\"\u003e \u003c\/span\u003e\u003cstrong data-mce-fragment=\"1\"\u003ereduce noise below 70dB,\u003c\/strong\u003e\u003cspan data-mce-fragment=\"1\"\u003e \u003c\/span\u003ewhich is\u003cspan data-mce-fragment=\"1\"\u003e \u003c\/span\u003e\u003cstrong data-mce-fragment=\"1\"\u003esuitable for families with pets.\u003c\/strong\u003e\u003cspan data-mce-fragment=\"1\"\u003e \u003c\/span\u003eOur vacuum cleaners have also passed CE safety certifications, adding\u003cspan data-mce-fragment=\"1\"\u003e \u003c\/span\u003e\u003cstrong data-mce-fragment=\"1\"\u003eover-voltage protection,\u003c\/strong\u003e\u003cspan data-mce-fragment=\"1\"\u003e \u003c\/span\u003eover current protection, and over-temperature protection to ensure your safety. It is a\u003cspan data-mce-fragment=\"1\"\u003e \u003c\/span\u003e\u003cstrong data-mce-fragment=\"1\"\u003egood gift\u003c\/strong\u003e\u003cspan data-mce-fragment=\"1\"\u003e \u003c\/span\u003efor parents\/friends when husbands\u003c\/span\u003e\u003c\/p\u003e\n\u003cp data-mce-fragment=\"1\"\u003e\u003cspan style=\"font-weight: 400;\" data-mce-fragment=\"1\" data-mce-style=\"font-weight: 400;\"\u003e\u003cimg height=\"408\" width=\"544\" src=\"https:\/\/cdn.shopify.com\/s\/files\/1\/0460\/7986\/9085\/files\/ezgif.com-gif-maker_59_480x480.gif?v=1636999852\" alt=\"\" data-mce-fragment=\"1\" data-mce-src=\"https:\/\/cdn.shopify.com\/s\/files\/1\/0460\/7986\/9085\/files\/ezgif.com-gif-maker_59_480x480.gif?v=1636999852\"\u003e\u003c\/span\u003e\u003c\/p\u003e\n\u003ch3 style=\"text-align: center;\" data-mce-fragment=\"1\" data-mce-style=\"text-align: center;\"\u003e\u003cspan data-mce-fragment=\"1\"\u003e\u003cstrong data-mce-fragment=\"1\"\u003ePORTABLE \u0026amp; LIGHTWEIGHT\u003c\/strong\u003e\u003c\/span\u003e\u003c\/h3\u003e\n\u003cp data-mce-fragment=\"1\"\u003e\u003cspan style=\"font-weight: 400;\" data-mce-fragment=\"1\" data-mce-style=\"font-weight: 400;\"\u003eThe Vacuum Cleaner is\u003cspan data-mce-fragment=\"1\"\u003e \u003c\/span\u003e\u003cstrong data-mce-fragment=\"1\"\u003eportable\u003c\/strong\u003e\u003cspan data-mce-fragment=\"1\"\u003e \u003c\/span\u003eand\u003cspan data-mce-fragment=\"1\"\u003e \u003c\/span\u003e\u003cstrong data-mce-fragment=\"1\"\u003ecomfortable to easy.\u003c\/strong\u003e\u003cspan data-mce-fragment=\"1\"\u003e \u003c\/span\u003eSay goodbye to that big vacuum equipment with lots of annoying cords. You can\u003cspan data-mce-fragment=\"1\"\u003e \u003c\/span\u003e\u003cstrong data-mce-fragment=\"1\"\u003eroam around\u003c\/strong\u003e\u003cspan data-mce-fragment=\"1\"\u003e \u003c\/span\u003eyour\u003cspan data-mce-fragment=\"1\"\u003e \u003c\/span\u003e\u003cstrong data-mce-fragment=\"1\"\u003ecard without\u003c\/strong\u003e\u003cspan data-mce-fragment=\"1\"\u003e \u003c\/span\u003eany\u003cspan data-mce-fragment=\"1\"\u003e \u003c\/span\u003e\u003cstrong data-mce-fragment=\"1\"\u003ecable tangling.\u003c\/strong\u003e The cordless design affords\u003cspan data-mce-fragment=\"1\"\u003e \u003c\/span\u003e\u003cstrong data-mce-fragment=\"1\"\u003efree mobility,\u003c\/strong\u003e\u003cspan data-mce-fragment=\"1\"\u003e \u003c\/span\u003eenabling easy cleanup at\u003cspan data-mce-fragment=\"1\"\u003e \u003c\/span\u003e\u003cstrong data-mce-fragment=\"1\"\u003eany time\u003c\/strong\u003e\u003cspan data-mce-fragment=\"1\"\u003e \u003c\/span\u003e\u0026amp;\u003cspan data-mce-fragment=\"1\"\u003e \u003c\/span\u003e\u003cstrong data-mce-fragment=\"1\"\u003eanywhere!\u003c\/strong\u003e\u003cspan data-mce-fragment=\"1\"\u003e \u003c\/span\u003eit can be placed in the car cup holder or the storage space under the car door\u003c\/span\u003e\u003c\/p\u003e\n\u003cbr data-mce-fragment=\"1\"\u003e\n\u003ch3 style=\"text-align: center;\" data-mce-fragment=\"1\" data-mce-style=\"text-align: center;\"\u003e\u003cspan data-mce-fragment=\"1\"\u003e\u003cstrong data-mce-fragment=\"1\"\u003eUNIQUE FILTER DESIGN \u0026amp; WET AND DRY USE\u003c\/strong\u003e\u003c\/span\u003e\u003c\/h3\u003e\n\u003cp data-mce-fragment=\"1\"\u003e\u003cspan style=\"font-weight: 400;\" data-mce-fragment=\"1\" data-mce-style=\"font-weight: 400;\"\u003eDue to the\u003cspan data-mce-fragment=\"1\"\u003e \u003c\/span\u003e\u003cstrong data-mce-fragment=\"1\"\u003eunique protection\u003c\/strong\u003e\u003cspan data-mce-fragment=\"1\"\u003e \u003c\/span\u003eof the\u003cspan data-mce-fragment=\"1\"\u003e \u003c\/span\u003e\u003cstrong data-mce-fragment=\"1\"\u003eexternal\u003c\/strong\u003e\u003cspan data-mce-fragment=\"1\"\u003e \u003c\/span\u003e\u003cstrong data-mce-fragment=\"1\"\u003efilter,\u003c\/strong\u003e\u003cspan data-mce-fragment=\"1\"\u003e \u003c\/span\u003eyou can use the vacuum cleaner to\u003cspan data-mce-fragment=\"1\"\u003e \u003c\/span\u003e\u003cstrong data-mce-fragment=\"1\"\u003esuck\u003c\/strong\u003e\u003cspan data-mce-fragment=\"1\"\u003e \u003c\/span\u003ethe\u003cspan data-mce-fragment=\"1\"\u003e \u003c\/span\u003e\u003cstrong data-mce-fragment=\"1\"\u003eliquid without worrying\u003c\/strong\u003e\u003cspan data-mce-fragment=\"1\"\u003e \u003c\/span\u003eabout the liquid entering the motor and damaging the machine. You can quickly \u0026amp; easily\u003cspan data-mce-fragment=\"1\"\u003e \u003c\/span\u003e\u003cstrong data-mce-fragment=\"1\"\u003eclean\u003c\/strong\u003e\u003cspan data-mce-fragment=\"1\"\u003e \u003c\/span\u003e\u003cstrong data-mce-fragment=\"1\"\u003eany wet\u003c\/strong\u003e\u003cspan data-mce-fragment=\"1\"\u003e \u003c\/span\u003e\u003cstrong data-mce-fragment=\"1\"\u003eand dry waste\u003c\/strong\u003e\u003cspan data-mce-fragment=\"1\"\u003e \u003c\/span\u003esuch as pet hair, dust, debris, and liquids to fresh up your surroundings!\u003c\/span\u003e\u003c\/p\u003e\n\u003cp style=\"text-align: center;\" data-mce-fragment=\"1\"\u003e\u003cimg alt=\"\" src=\"https:\/\/cdn.shopify.com\/s\/files\/1\/0460\/7986\/9085\/files\/mainimage5Portable-120W-Car-Vacuum-Cleaner-Wet-And-Dry-Handheld-Rechargeable-Vacuum-Cleaner-6000Pa-Auto-Home-Interior_900x_4da24064-9677-4a6b-93a4-f8b56bf70e96_480x480.jpg?v=1641198853\" width=\"472\" height=\"472\"\u003e\u003c\/p\u003e\n\u003ch3 style=\"text-align: center;\" data-mce-fragment=\"1\" data-mce-style=\"text-align: center;\"\u003e\u003cspan data-mce-fragment=\"1\"\u003e\u003cstrong data-mce-fragment=\"1\"\u003eHIGH-EFFICIENCY HEPA FILTER SYSTEM\u003c\/strong\u003e\u003c\/span\u003e\u003c\/h3\u003e\n\u003cp data-mce-fragment=\"1\"\u003e\u003cspan style=\"font-weight: 400;\" data-mce-fragment=\"1\" data-mce-style=\"font-weight: 400;\"\u003eThe vacuum cleaner is equipped with an\u003cspan data-mce-fragment=\"1\"\u003e \u003c\/span\u003e\u003cstrong data-mce-fragment=\"1\"\u003eadvanced double-layer HEPA (high-efficiency particulate air)\u003c\/strong\u003e\u003cspan data-mce-fragment=\"1\"\u003e \u003c\/span\u003efilter system. It can\u003cspan data-mce-fragment=\"1\"\u003e \u003c\/span\u003e\u003cstrong data-mce-fragment=\"1\"\u003ecapture 99.5%\u003c\/strong\u003e\u003cspan data-mce-fragment=\"1\"\u003e \u003c\/span\u003eof\u003cspan data-mce-fragment=\"1\"\u003e \u003c\/span\u003e\u003cstrong data-mce-fragment=\"1\"\u003esmall particles\u003c\/strong\u003e\u003cspan data-mce-fragment=\"1\"\u003e \u003c\/span\u003eand pollutants as small as 0.5μm (1\/120 of the diameter of a human hair), thereby effectively preventing pollutants from being released into the air in the exhaust gas.\u003c\/span\u003e\u003c\/p\u003e\n\u003cdiv style=\"text-align: center;\"\u003e\u003cimg alt=\"\" src=\"https:\/\/cdn.shopify.com\/s\/files\/1\/0460\/7986\/9085\/files\/mainimage2Portable-120W-Car-Vacuum-Cleaner-Wet-And-Dry-Handheld-Rechargeable-Vacuum-Cleaner-6000Pa-Auto-Home-Interior_900x_e1a04f69-724f-4293-921c-59fc8f5791c2_480x480.jpg?v=1641198898\"\u003e\u003c\/div\u003e\n\u003ch3 data-mce-fragment=\"1\"\u003e\u003cspan data-mce-fragment=\"1\"\u003eCOMPACT, INNOVATIVE, LUXURIOUS DESIGN\u003c\/span\u003e\u003c\/h3\u003e\n\u003cp data-mce-fragment=\"1\"\u003e\u003cspan style=\"font-weight: 400;\" data-mce-fragment=\"1\" data-mce-style=\"font-weight: 400;\"\u003eThe cordless handheld vacuum cleaner\u003cspan data-mce-fragment=\"1\"\u003e \u003c\/span\u003e\u003cstrong data-mce-fragment=\"1\"\u003eadopts\u003c\/strong\u003e\u003cspan data-mce-fragment=\"1\"\u003e \u003c\/span\u003ean\u003cspan data-mce-fragment=\"1\"\u003e \u003c\/span\u003e\u003cstrong data-mce-fragment=\"1\"\u003eintelligent design\u003c\/strong\u003e\u003cspan data-mce-fragment=\"1\"\u003e \u003c\/span\u003eand has enough\u003cspan data-mce-fragment=\"1\"\u003e \u003c\/span\u003e\u003cstrong data-mce-fragment=\"1\"\u003erotating suction power,\u003c\/strong\u003e\u003cspan data-mce-fragment=\"1\"\u003e \u003c\/span\u003ewhich can not only clean the\u003cspan data-mce-fragment=\"1\"\u003e \u003c\/span\u003e\u003cstrong data-mce-fragment=\"1\"\u003ecar, office,\u003c\/strong\u003e\u003cspan data-mce-fragment=\"1\"\u003e \u003c\/span\u003eand\u003cspan data-mce-fragment=\"1\"\u003e \u003c\/span\u003e\u003cstrong data-mce-fragment=\"1\"\u003ehome.\u003c\/strong\u003e\u003cspan data-mce-fragment=\"1\"\u003e \u003c\/span\u003eNo matter where you are, this is the only handheld vacuum cleaner you need to polish every day. Vacuuming is\u003cspan data-mce-fragment=\"1\"\u003e \u003c\/span\u003e\u003cstrong data-mce-fragment=\"1\"\u003eeasier\u003c\/strong\u003e\u003cspan data-mce-fragment=\"1\"\u003e \u003c\/span\u003eand\u003cspan data-mce-fragment=\"1\"\u003e \u003c\/span\u003e\u003cstrong data-mce-fragment=\"1\"\u003emore fun than ever.\u003c\/strong\u003e\u003c\/span\u003e\u003c\/p\u003e\n\u003cp data-mce-fragment=\"1\"\u003e\u003cspan style=\"font-weight: 400;\" data-mce-fragment=\"1\" data-mce-style=\"font-weight: 400;\"\u003e\u003cimg src=\"https:\/\/m.media-amazon.com\/images\/I\/71m+j2m7gyL._AC_SL1200_.jpg\" width=\"540\" height=\"540\" data-mce-fragment=\"1\" data-mce-src=\"https:\/\/m.media-amazon.com\/images\/I\/71m+j2m7gyL._AC_SL1200_.jpg\"\u003e\u003c\/span\u003e\u003cbr data-mce-fragment=\"1\"\u003e\u003cstrong data-mce-fragment=\"1\"\u003e\u003cspan data-mce-fragment=\"1\" mce-data-marked=\"1\"\u003eSPECIFICATIONS:\u003c\/span\u003e\u003c\/strong\u003e\u003c\/p\u003e\n\u003cp data-mce-fragment=\"1\"\u003e\u003cspan data-mce-fragment=\"1\"\u003eMaterial: ABS.\u003c\/span\u003e\u003cbr data-mce-fragment=\"1\"\u003e\u003cspan data-mce-fragment=\"1\"\u003eColor: Black, white.\u003c\/span\u003e\u003cbr data-mce-fragment=\"1\"\u003e\u003cspan data-mce-fragment=\"1\"\u003eSize: 368x65x35mm.\u003c\/span\u003e\u003cbr data-mce-fragment=\"1\"\u003e\u003cspan data-mce-fragment=\"1\"\u003eRated rotating speed: 4000 r\/min.\u003c\/span\u003e\u003cbr data-mce-fragment=\"1\"\u003e\u003cspan data-mce-fragment=\"1\"\u003eRated voltage: 12V.\u003c\/span\u003e\u003cbr data-mce-fragment=\"1\"\u003e\u003cspan data-mce-fragment=\"1\"\u003eRated input power: 120W.\u003c\/span\u003e\u003cbr data-mce-fragment=\"1\"\u003e\u003cspan data-mce-fragment=\"1\"\u003eVacuum force: 6000pa.\u003c\/span\u003e\u003cbr data-mce-fragment=\"1\"\u003e\u003cspan data-mce-fragment=\"1\"\u003eBattery: Rechargeable battery. (Built-in)(Rechargeable type)\u003c\/span\u003e\u003c\/p\u003e\n\u003cp data-mce-fragment=\"1\"\u003e \u003cstrong data-mce-fragment=\"1\"\u003ePACKAGE INCLUDES:\u003c\/strong\u003e\u003c\/p\u003e\n\u003cul data-mce-fragment=\"1\"\u003e\n\u003cli data-mce-fragment=\"1\"\u003e\u003cspan data-mce-fragment=\"1\"\u003e1 x Brush\u003c\/span\u003e\u003c\/li\u003e\n\u003cli data-mce-fragment=\"1\"\u003e\u003cspan data-mce-fragment=\"1\"\u003e1 x Long Flat Brush\u003c\/span\u003e\u003c\/li\u003e\n\u003cli data-mce-fragment=\"1\"\u003e\u003cspan data-mce-fragment=\"1\"\u003e1 x Auxiliary Connector\u003c\/span\u003e\u003c\/li\u003e\n\u003cli data-mce-fragment=\"1\"\u003e\u003cspan data-mce-fragment=\"1\"\u003e1 x USB Charging Cable\u003c\/span\u003e\u003c\/li\u003e\n\u003c\/ul\u003e\n\u003cp data-mce-fragment=\"1\"\u003e \u003c\/p\u003e"}
PORTABLE WIRELESS HANDHELD MINI VACUUM CLEANER FOR CAR AND HOME
MAINTAIN YOUR CAR EXTRA CLEAN WITH THE BEST PORTABLE VACUUM CLEANER
NO MORE CRUMBS, DUST, OR DIRT!
CONVENIENTLY HELPING YOU TO TIDY UP EVERY SINGLE CORNER OF YOUR VEHICLE AND HOUSE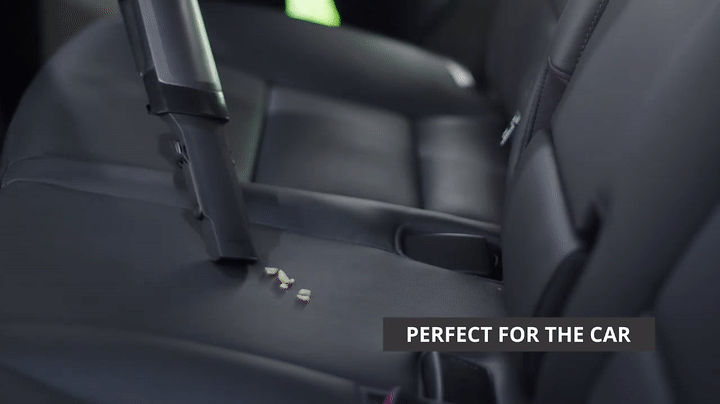 FULLY CLEAN YOUR CAR
Sometimes it can be difficult to reach those spots on our cars that are filled with dust and debris. It can be quite annoying to fully clean your car but still see dust and dirt appearing from somewhere. Now it is possible to completely clean your car with this Cordless Portable Vacuum Cleaner for Cars! 
STRONG SUCTION POWER & CORDLESS DESIGN
The handheld vacuum has a powerful suction power of 6000 Pa 120W power motor, which is efficient in cleaning not only dust, pet hair, soot, paper scraps but also cat litter and liquids. The cordless handheld vacuum cleaner helps free your movement to everywhere for cleaning your stairs, furniture, car, or hard-to-reach corners.
USB FAST CHARGING
2-3H CHARGE 2200mAh lithium battery can be fully charged in 2-3H, and the cordless hand vacuum cleaner can be used for 25-30 minutes after being fully charged. With the built-in USB Type-C port, you can quickly charge the vacuum cleaner, so you can always focus on the task of vacuuming. You can use the USB charging cable to connect the car charger,
3 NOZZLES & 3 IN 1 USE
The portable vacuum cleaner has 3 accessories, which can meet your needs in different scenarios such as home, office, car, etc. Rubber nozzles are used to clean up leaking liquids; slot nozzles are used for cleaning narrow spaces; brushes are used to clean snacks and hair on sofas or rugs; hoses can clean hard-to-reach areas.
LESS NOISE & MORE SAFETY PROTECTION
Soundproof cotton design of air outlet can reduce noise below 70dB, which is suitable for families with pets. Our vacuum cleaners have also passed CE safety certifications, adding over-voltage protection, over current protection, and over-temperature protection to ensure your safety. It is a good gift for parents/friends when husbands
PORTABLE & LIGHTWEIGHT
The Vacuum Cleaner is portable and comfortable to easy. Say goodbye to that big vacuum equipment with lots of annoying cords. You can roam around your card without any cable tangling. The cordless design affords free mobility, enabling easy cleanup at any time & anywhere! it can be placed in the car cup holder or the storage space under the car door
UNIQUE FILTER DESIGN & WET AND DRY USE
Due to the unique protection of the external filter, you can use the vacuum cleaner to suck the liquid without worrying about the liquid entering the motor and damaging the machine. You can quickly & easily clean any wet and dry waste such as pet hair, dust, debris, and liquids to fresh up your surroundings!
HIGH-EFFICIENCY HEPA FILTER SYSTEM
The vacuum cleaner is equipped with an advanced double-layer HEPA (high-efficiency particulate air) filter system. It can capture 99.5% of small particles and pollutants as small as 0.5μm (1/120 of the diameter of a human hair), thereby effectively preventing pollutants from being released into the air in the exhaust gas.
COMPACT, INNOVATIVE, LUXURIOUS DESIGN
The cordless handheld vacuum cleaner adopts an intelligent design and has enough rotating suction power, which can not only clean the car, office, and home. No matter where you are, this is the only handheld vacuum cleaner you need to polish every day. Vacuuming is easier and more fun than ever.

SPECIFICATIONS:
Material: ABS.
Color: Black, white.
Size: 368x65x35mm.
Rated rotating speed: 4000 r/min.
Rated voltage: 12V.
Rated input power: 120W.
Vacuum force: 6000pa.
Battery: Rechargeable battery. (Built-in)(Rechargeable type)
 PACKAGE INCLUDES:
1 x Brush

1 x Long Flat Brush

1 x Auxiliary Connector

1 x USB Charging Cable